Breathtaking drone footage shows gigantic Hang Son Doong – 'Mountain River Cave' in amazing detail
First place in the world for being the largest cave in the world belongs to Hang Son Doong in Vietnam, in Phong Nha-Ke Bang National Park, about 450 kilometers (280 miles) south of Hanoi. It is more than 8.7 kilometers (5.4 miles) long. 
The cave was found by a local farmer, Ho Khanh in 1991. He used it as a shelter from a storm. It was not until 2009 that British Cave Research Association explored the cave and it became instantly one of the most amazing thing you can see in your life.
However, their progress was quickly stopped by a large 60 meters (2oo ft) high calcite wall. The explorers led by Howard and Deb Limbers names the wall The Great Wall of Vietnam.  Inside, the cave has its own environment – animal life, lakes, beaches, trees and a river and also a rare pearls that have been shaped by water drops for centuries and some of them are as big as baseball. 
The main chamber of Hang Son Doong is more than 5 kilometers (3.1 miles) long, 200 meters (660ft) high and 150 meters (490 ft) wide. With this measurements, the Hang Son Doong overtook the first place as the largest cave in the world, from the Deer Cave in Malaysia.
[sc:ad-text]
The cave inside has some of the tallest known stalagmites, which are about 70 meters tall. The cave itself was created 2-5 million years ago by water eroding away the limestone underneath the mountain. On the places, where the limestone was weak, the ceiling collapsed and created huge skylights.
If you want to take the tour (I know, I want to), you have to make reservation. Unfortunatelly, the 2015 is fully booked and I can only guess, that 2016 is almost full. The price is around 3.000 USD each.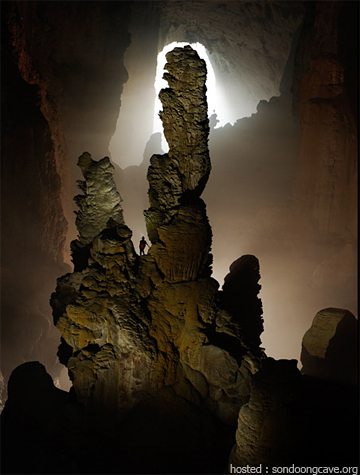 source: sondoongcave.org

[sc:end t="Inside Hang Son Doong – The world's Largest Cave "]

[sc:"ad-amazon"]